Built In Battery Mods
Besides some crazy awesome designs, built in battery mods, are gaining popularity because of their safety. The best of built in battery mods will have super long battery life and circuit protected battery cells, or packs, for safety.
If you're new to vape mods and don't have a total understanding of 18650s and other type of battery cells, than built in battery mods are perfect for you. Or if you find yourself worried about vape mods exploding in your face, which I am not, than a built in battery mod should be something you consider.
A built in battery mod, eliminates the constant removal of the batteries and alleviates the stress from this. Built in battery mods basically prevent mishaps from the battery cells.
Almost all incidents involving vape mods, have at the very least been traced back to the popular 18650 style battery. Some battery dangers are:
Carrying loose batteries in pockets unprotected
Damaged battery cell casing
Overcharged and over discharged cells
Ignorance of the explosive capability of cells
Reverse polarity in an unprotected device
Essentially most of the popular battery cells used for vape mods today, simply are not designed to be used outside of a protected pack, and suffer the rigorous abuse from vaping.
There are alot of awesome benefits from built in battery mods besides the safety aspects. Most of the built in battery mods I have seen have superior mAH compared to removable battery cells. This is almost necessary unless you have a backup mod when it dies.
You can also get a more ergonomic designs with built in batteries, without the need for battery doors, not to mention the hassle with some of the removable battery compartment designs. 
With built in batteries there will be no more need for a charger, battery case, cell shopping, as well as loading and unloading your battery cells constantly and forever.
Pictured below is a popular built in battery mod loaded with features at a great price. Click on the image to see all it has to offer. It features a waterproof and shockproof design.
Geekvape Aegis 80W TC Box Mod $39.90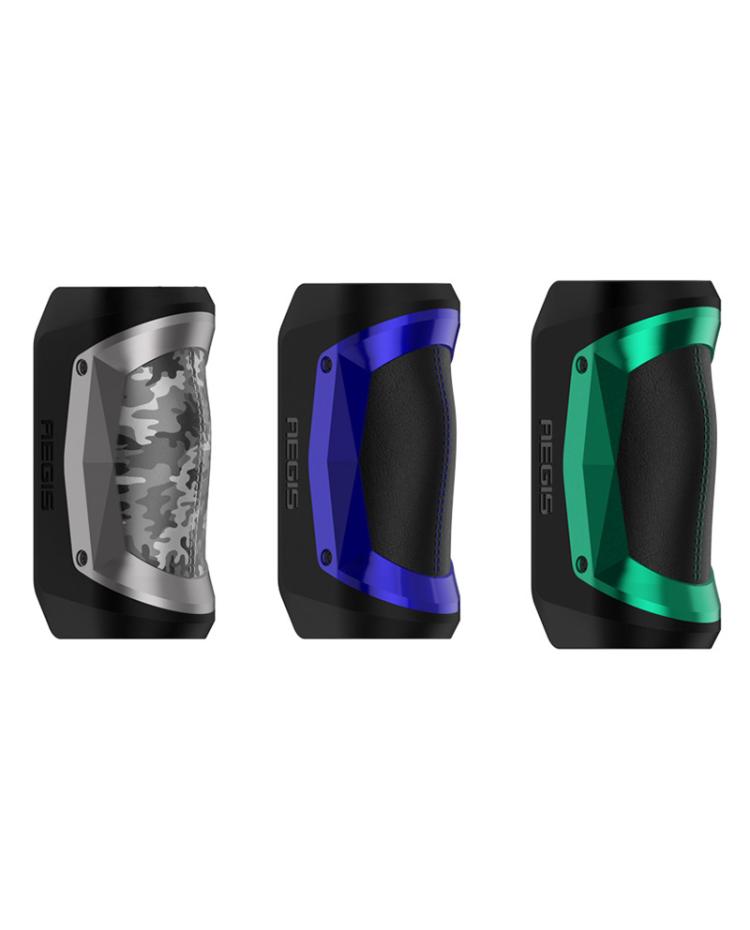 Safer Mods Are Arriving
Changes could be coming to the vape mod industry. Last October, 2018, a global safety science company, Underwriters Laboratories, announced the first safety standard for the battery and charging systems, as well as the electrical and heating systems in vape mods.
In light of all vape mod explosions being related to the mishandeling of 18650 type batteries, the senior manager of UL believes the batteries should not be able to be removed from the mod. I would say this is great news for built in battery mods, and will be a key criteria in receiving the UL mark on vape mods.
Receiving a UL mark means the device meats the highest safety standards, and has undergone rigorous testing, to insure safety.
So far, nine built in battery vape devices, from these companies will receive the UL mark: Joyetech, Eleaf, Innokin, Shenzhen IVPS and Shenzhen Smoore Technology. Less than half will be sold in the US, but be on the lookout for future built in battery mods to have the UL mark.
The Food and Drug Administration recently finalized guidance for manufacturers submitting new applications for tobacco products, which includes e-cigarettes. The FDA now recommends that companies provide information about the kinds of batteries they use in the vape mods, as well as plans for addressing  overheating, fire and explosion.
Mech Mods
The majority of, but not all, built in battery mods are known as mechanical mods. A mechanical vape mod is typically lacking a chipset that regulates the power.
Some mech mods will have a variable voltage or wattage option allowing you to choose between a few different power options.
Regardless of the regulated power, a built in battery mech mod should definitely have a short circuit, and over charge/discharge protected battery, or pack.
Built in battery mech mods can come in two styles, the cylinder shaped pen mod, or the larger box mod styles. Simplicity and compact size is what makes pen style mods appealing. Power and features is what attracts me to box style mods.
Mech mods that do not have built in batteries, will typically have no electronics whatsoever, this also means no safety features. This type of mech mod is for advanced users only, and users must have battery knowledge, and be completely familiar with ohms law, and how it applies to vaping.
Drag Mini 117W 4400mAh TC Box Mod By Voopootech $44.90
Conclusion
I believe we will start seeing a lot more built in battery vape mods in the near future. Having a UL mark on a vape mod is a very big deal, and I'm sure Companies are going to jump on this chance to prove their safety.
I love the no hassle of batteries and chargers and battery doors that you get with built in battery mods. The only thing I don't like about built in battery mods is that if your mod dies unexpectedly, you're outta luck unless you have a backup mod, which I do.
To me the term mech mod is used loosely these days. It use to mean no built in battery, no electronics whatsoever, only a firing pin and that's it. But now mech mod is used to describe mods that have just no chipset, but actually some do, so I can only say be sure you know what your buying.
Thank you for reading! Please leave a comment and share your experiences!
David
Caution
Mechanical  devices are for advanced users only, not for beginners or intermediate users. Understand Ohm's Law and how to use an ohmmeter to check for the resistance or for shorts in their coils before using these mods.
Mech mods cannot be safely used by those without basic knowledge of the devices function. Please ensure proper precautions are taken when using these types of mods, as to not cause damage and/or harm to the battery, mech mod, atomizer, yourself or others.  Use at your own risk.