The Best Sub Ohm Vape Atomizers
The best sub ohm vape atomizers can be defined by user preference.
Some people don't like the hassle of building or wicking coils.
Others enjoy the bonus longevity and flavor of building their own coils.
It comes down to what you like, and what motivates you to keep the fight against cigarettes strong.
This is why collaborations are so good because user preference has helped in purifying the designs to meet your needs. Also when two companies merge ideas you get the best of both worlds and this is the point.
Different Styles
The best sub ohm vape atomizers can be divided into three groups for convenience, RDAs, RTAs, and Tanks.
RDAs and RTAs can be subcategorized as the best single coil RDA/RTA and the best dual coil RDA/RTA.
 The best carts or disposable atomizers, can have any number of coils or mesh. There is also other categories of sub ohm atomizers but we're gonna stick with these main ones here:
THE BEST SINGLE COIL RDA
THE BEST DUAL COIL RDA
THE BEST SINGLE COIL RTA
THE BEST DUAL COIL RTA
THE BEST TANK
Being the best is based on many factors such as quality, quantity, and flavor of the vape produced, as well as the manufactured quality of the atomizer, and build decks. Here are some other key factors to note when choosing the best vape atomizer:
How Long Disposable Cart Atomizers Last
Airflow And Airflow Options
Juice Capacity And Well Size
Leaking
Burnt Coils, And Spitback
How Easy It Is To Clean
Room To Build, And Ease Of Build
Range Of Ohms
Price
MTL Sub Ohm Atomizers
Almost all the best sub ohm atomizer brands also have a mouth to lung design for the use on vape mods. This can sometimes be a better MTL experience then even the best vape pods.
Mesh
Most of the best new designs are incorporating the new mesh coil technologies. Mesh coils have been around in factory made carts and are now being developed for rebuildables. Mesh coils give more surface area then conventional coils witch leads to more vape and flavors.
Collaborations between designers, owners, vapers, companies and so on, seems to be where the best atomizers are found. You can't go wrong with two or more great designers and developers coming together to make superior products. 
RDA
RDA stands for rebuildable dripping atomizer. RDAs allow you to replace the coils and wick with your own or premade.
The best RDAs can be used as bottom feed atomizers or BF RDAs, simply by adding the squonk pin in place of the standard.
RDAs are great for the beginner and enthusiast alike, granting you plenty of headroom for building coils and allowing for many style options. A Lot of dual coil post decks, also allow the use of a single coil option.
Getting the coil placement right, not to far from the airflow.
Choosing a good reservoir depth for the vape juice, weather squonking or dripping.
Having top airflow is best for leaking or over squonking.
Leaking from the seals, and being tipped over, and from bottom airflow designs.
Having post or postless deck designs is the biggest design variance.
RTA
RTA stands for rebuildable tank atomizer.  The best RTAs allow you to replace the coils and wick with your own or premade.
With more components to deal with, more issues to look for in finding the best RTA for the job are here:
Getting the wicking right, not to long or to short in most casses.
Burnt or dry hits, typically from wicking placement issues.
Build room, especially with dual coils, the sleeve gives little room to work with.
Leaking from the seals, and being tipped over, and from bottom airflow designs.
Small tanks, not enough juice.
Cleaning is huge.
Top cap issues are very common.
Tanks
A sub ohm tank also known as cartomizer, has a replaceable or disposable coil and wick combo that can be placed inside of a tank.
They come in a wide variety of styles, both coil modules and tanks, and are the most convenient of all sub ohm vape atomizers. 
Some tanks coil module can only be used with that brand of tank, some tanks can accept multiple brands of coils.
You get excellent vape density and flavor but some things to look for to get the best cart tank combo are here:
How Long The Atomizer And Wick Lasts Is Key.
Top Airflow Is Popular Leak Free Option
Easy Fill Tanks
Secure Fill Caps Or Top Cap
Large Tank Juice Capacity.
Issues
The best sub ohm vape atomizers, and all their style have come with plenty of complaints and user issues.
Every year the best atomizer manufacturers come up with new innovative ways to meet the users needs, or heed to their complaints.
Don't give up on vaping because of frivolous issues, for some one has most likely come up with a way to solve them. D.S. 2019
I have had issues with RTAs leaking from bottom airflow designs.
The absolute worst is when you build a new coil, put your tank all back together, then fill your tank with premium juice, only to have it leak out the air holes all over your beautiful mod. Now your covered in juice and have no mod to vape.
BEST SUB OHM TANK
FREEMAX MESH PRO
FreeMax Mesh Pro – $27.50
The FreeMax Mesh Pro is next level. The Mesh Pro has a 6mL max capacity and a 25mm base. It also comes with a bubble glass replacement tank, so FreeMax has listened to their fan base with that great addition.
The Freemax Mesh Pro has a push button top cap so you won't have to unscrew your tank to top it off.
The tank comes with two coils – a Kanthal single mesh at 0.15 ohms rated for 40-70w and a 0.2 Kanthal double mesh at 0.2 ohms rated for 60-90w (pre-installed). The FreeMax Mesh Pro also has a triple mesh coil that's sold separately.
If you were a fan of the Fireluke Mesh you'll love the FreeMax Mesh Pro! Welcome to the the future of sub ohm atomizers.
BEST SINGLE COIL RTA
VANDYVAPE KYLIN M
THE BEST VAPING EXPERIENCE OF ALL!
The Vandy Vape Kylin M RTA – $27.90
The Vandyvape Kylin M RTA has an optimized building deck, that exceeds the Profile Unity.
The top airflow eliminates leaking.
The screw style top cap eliminates loose caps.
Easier to clean then the Profile
The terminals are spring loaded for an even easier coil placement.
The diameter is 24mm, with the top honeycomb airflow intake adjustable design, vapers can rotate the ring to adjust the airflow easily, the intake air will hit the mesh coil directly, and with the trapezoidal airflow intake channel to gather vapor and experience the excellent flavor.
Colors: SS, Blue, Gun Metal, Gold, Grey, Rainbow, Matte Black
3ML E-Juice Capacity
Top Honeycomb Airflow Intake For Anti-Leaking
Optimized Building Deck For Various Mesh Coils
Convenient Top E-Juice Refill Design
All Parts Detachable And Reassembled
4.5ML Bubble Glass Tube Included
0.2ohm And 0.15ohm Mesh Coil Included With Long-Service Life
Wide Bore Resin Drip Tip Included
Unprecedented Vaping Experience With Excellent Flavor Taste
 The Kaylin has ceramic shrapnel design in the building deck to avoid the dry burning, adaptive compression based on different cotton volume is able to reduce the risk of partial burning. the packing includes the 0.15ohm and 0.2ohm mesh coils.
The Kylin M RTA with convenient top refill design, only screw out the top cap and refill e-juice at any angles, the inner juice diversion channel will import the juice, without leaking issues, and the wide bore resin 510 drip tip included.
BEST DUAL COIL RTA
Geek Vape Zeus X
The upgraded Geek Vape Zeus X RTA is TOP NOTCH! – $29.99
Optimizing performance is achieved with this rebuildable tank atomizer. It has a unique top airflow design for the flavor chaser and cloud chaser alike! 
This RTA is the next and final rendition of the Zeus RTA series of tanks by Geek Vape. They listened to the feedback of the vaping community to upgrade this RTA for you!
The Zeus X has an all-new deck designed for the RTA enthusiast! You can build easier with easy lead trimming access. It can double as a guide for your dual or single coil builds so you have the right build every time!
Its design is good for larger and smaller coils. Whatever and however you enjoy building on a deck, meet your needs with the Zeus X!
Easily fill your Zeus X with the upgraded fill ports on top of the tank. It's designed to minimize the mess as you top of the 4.5mls of your all day vape!
You will not go wrong if you are a building maniac with the Geek Vape Zeus X RTA! Order yours today!
BEST SINGLE COIL RDA
WOTOFO PROFILE 24MM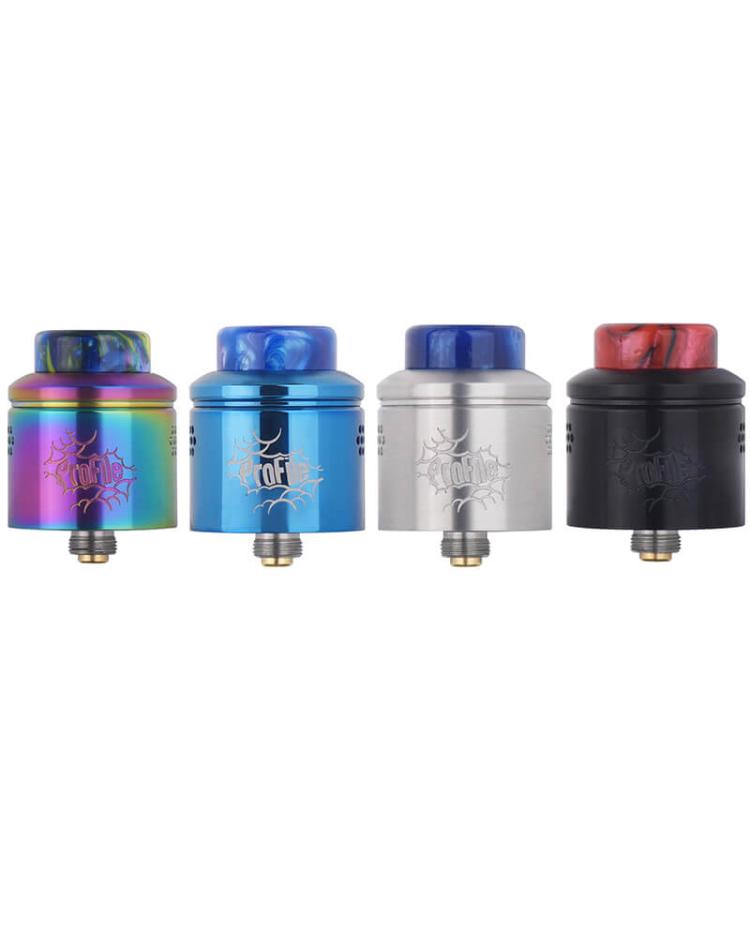 THE EASIEST COIL BUILD OF ALL!
Wotofo Profile 24MM RDA – $21.00
Wotofo has collaborated with Mr JustRight1 to bring you the Profile 24mm BF RDA.
The Wotofo Profile RDA makes building a sinch.  This RDA has a 24mm wide base with a 4mm deep juice well giving you plenty of space to wick your coils as well as plenty of room to hold your e liquid.
What is really great about this RDA is that it has spring-loaded ceramic support meant to aid in the prevention of cotton sagging under your mesh coil.
The deck has two clamp-style posts on the sides of the ceramic support. Although they are specially formulated for mesh coils, these clamps will work with traditional style coils as well without any issue. These clamps are held in place and easily adjusted with a Phillips head screw on either side.
The Wotofo Profile RDA gives you a lot of flexibility to vape from squonking to standard, and mesh to wire coils – This atomizer does both!
BEST DUAL COIL RDA
HELLVAPE DROP DEAD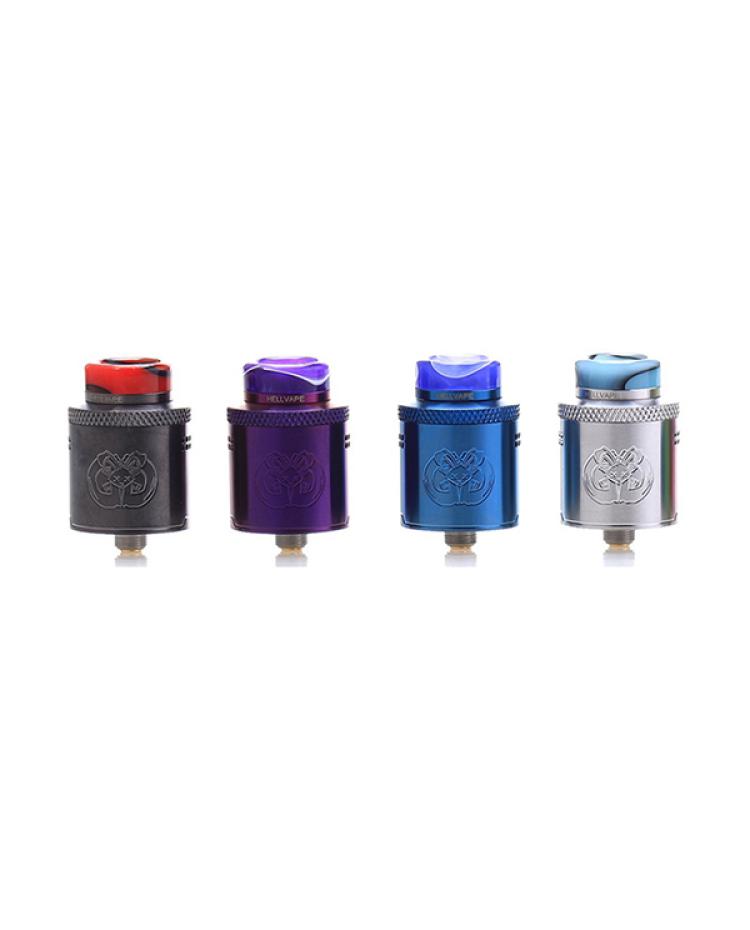 Two RDAs In One The HELLVAPE DROP DEAD RDA- $25.80
HellVape has done it again with the Drop Dead RDA!  In collaboration with the Vapor Chronicles and the Vapin' Heathen, the Drop Dead RDA is the dripper that stands out from the crowd! Fitting for nearly every mod at 24mm base.
HellVape's newest RDA is ideal for any builder to sport around the vape scene! The best feature is in the airflow. Two lines of small adjustable honeycomb airflow holes on either side of the RDA make for a tight draw, and that is exactly what I love about this atomizer!
The focused pull of this RDA will give you all the flavor you can handle, for sure! Build with a single or double coil on the easy to trim posts.
Conclusion
Please leave a comment on what your favorite atomizers are!
With so many to choose from and new atomizers coming out every day choosing the best is daunting.
Thank you for your support!
David.