A vape mod battery charger can come with a wide variety of safety features and functions. Knowing what to look for in a vape mod battery charger is key to getting the longest life from your batteries, as well as keeping them safe.
This Is What You Want From A Vape Mod Battery Charger
If your serious about vaping and want to always have a fresh pair of batteries to fire your cloud producing vape device, then this is what you want to get out of a battery charger:
Good Charging Speed
Reverse Polarity Protection
Auto Shut Off And Over Charge Protection
State of Charge Indicator
Prefered Options
At Least Four Charging Ports
Supports All Chemical Makeups
Supports Multiple Sizes
LCD Display
High Quality Options
Intelligent Charging Circuit
Cell mah Detection
0 Volt Auto Activation 
Almost all vape mod battery chargers are designed specifically for the batteries it can charge, and not with vape mods in mind at all. Knowing as much about your batteries before buying a charger can save you time, keep you knowledged and safe.
Everything I was looking for and more.
6 cells at 1A or 3 cells at 2A, plus more features then you need, for under forty bucks you can't go wrong, the Golisi charger below, it's all you'll ever need.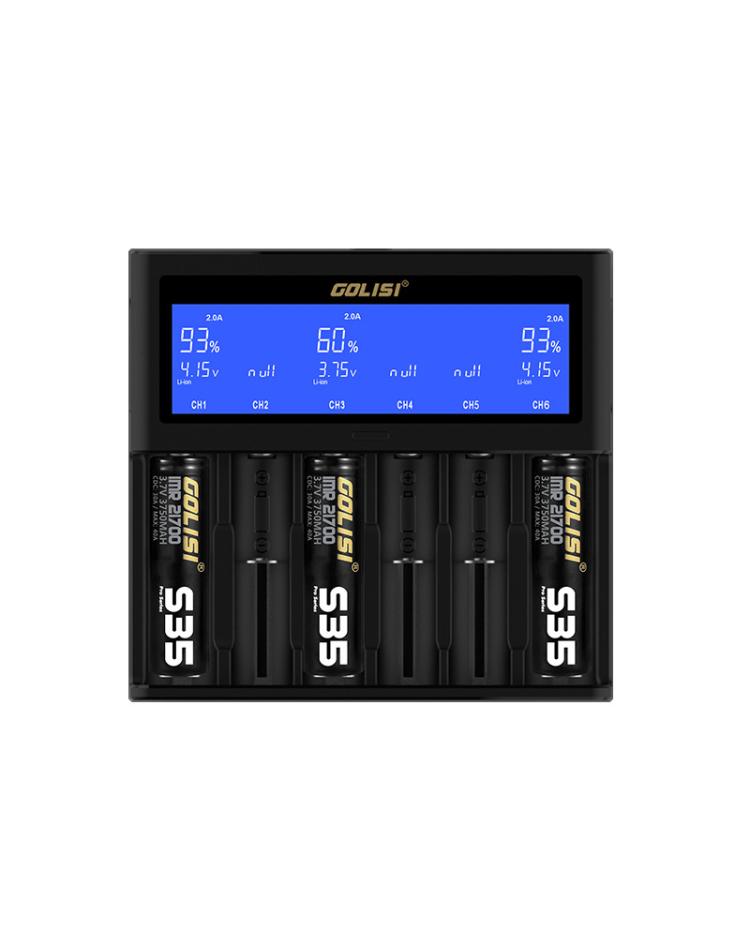 Charging speed
The charging speed will be determined by how many amps your charger runs at. The higher the amps the faster your charge, although this creates more heat. Most chargers will divide the amps between the number of batteries charging.
Your looking for 0.5 to 2 amps per port charger, for a good 18650, or larger cell.
For example a 2.1 Amp charger might charge four batteries at 0.5 Amps a piece. This same charger might charge two batteries at 1.0 Amps a piece. Generally its good to stay below 1.0 Amp per battery. 
Remember your lithium ion batteries don't like heat, and more amps or current creates more heat.
A quality charger will start at a low amp around 0.5, and build up to 2 amps, through voltage and current charging cycles. With the right charger, and good condition modern battery, it is safe to charge a single cell at 2 amps.
Your Battery
Lithium ion cells are known for their rechargeable ability, very long lifespan, and lightweight design. However, these cells require extra care because they deteriorate faster and are sensitive to higher temperatures.
Some vape mod battery chargers might not accommodate the specific chemical makeup of your battery. Although most modern battery charger designs will accommodate all chemical make ups.
It is  a very good idea to know exactly what type of battery your using to avoid silly mistakes.
Chemical /Abbreviation/Name 1/Name 2/Name 3
Lithium manganese oxide / LiMn2O4 / IMR / LMO  / Li-manganese
Lithium manganese nickel / LiNiMnCoO2 / INR / NMC /
Lithium nickel cobalt aluminum oxide / LiNiCoAlO2 / NCA / Li-aluminum
Lithium nickel cobalt oxide/ LiNiCoO2 / / NCO/
Lithium cobalt oxide / LiCoO2 / ICR / LCO / Li-cobalt
Lithium iron phosphate / LiFePO4 /  IFR / LFP / Li-phosphate
Whatever size battery, a rechargeable lithium battery should avoid overcharge, to fast of a charge, and overheating. A mod battery charger with over charge protection is.  Also, known as a smart charger, or auto shut off, over charge protection is the most important feature in a vape mod battery charger. Some chargers will have a heat dissipation feature to further increase the lifespan of your battery.
Note: Only use IMR or INR for vaping.
Your Battery Size
Before you buy a charger be sure it supports your batteries size.
Most chargers have 18650s in mind foremost, if you own a larger size such as 21700 or 26650s be sure the battery charger supports these sizes. If it does not and your battery is to big, do not try to force your battery into the charger, absolutely never.
Even if some charges say they support a 21700 size battery, the fit might be so tight, it can damage your battery protective wrap.
Fully Charged
A fully charged lithium battery means it's reached its voltage threshold and around 3% less than its current max .
Increasing the charge speed beyond the batteries desired rate will only take longer for the battery to actually be fully charged or have 100% state of charge. Without being to technical, essentially a lithium ion battery has two stages of charge. Stage one is a voltage charge and stage two is the current charge. While the state of charge is total of the two stages.
This is why it take time to charge a 18650 and other sizes of lithium ion batteries. For example increasing the amps or voltage to get a faster charge will only max out stage one, and your charger will indicate fully charged yet the actual state of charge is 70%, because stage two couldn't catch up.
This is more important when dealing with battery packs as they would require a trickle charger, but with most vape mod battery chargers or smart chargers, the intelligent circuitry is built in. The importance in understanding this example is over time your batteries will charge faster then when new, but from natural deterioration or mishandling, or the speed of charge.
This 4 bay charger below is from Xtar, called the VC4. The features that stand out to me, are the display and mah readings. Xtar is a trusted brand I have used for years, and wouldn't pass this up for $25 bucks.
 Ways To Stay Safe
Don't charge with the USB port or while inside your device, this is not good for your mod batteries and not safe.
Don't charge batteries with damaged wrappers, this can lead to explosions or venting.
Don't ever try to modify the charger in any way at all.
Don't use a charger that doesn't specifically indicate  the support of your batteries chemistry, size, and specs.
Lithium Ion Battery Safety and Care
When charging your vape mod battery use a smart charger with over charge protection. Fully drain your battery before charging, and always fully charge your battery before discharging. This will insure the life of your battery. Never charge your batteries unattended, and remove them and let rest once fully charged, before use. Never charge with more than 4.2 volts. Do not leave discharged for a long duration. Batteries deteriorate over time, a spare battery won't last much longer than one in use.
If using an unprotected mechanical device, buy batteries with built in protection, or properly match your coil and battery ratings. Never discharge lower than 3.0 volts. Never discharge at a rate higher than the CDR.
Never use a vape mod battery that is dented, has abrasions, or if the insulator wrap/shell is damaged in any way. Never carry in your pocket unprotected, always have in a case. Store in a dry place around 65 degrees fahrenheit. Always dispose of batteries at a recycling center or place that accommodates.
Let Them Rest
Before and after charging always let your batteries rest and cool down before using or charging. This will insure the life and safety of your batteries for a very long time. Most smart charges will stop once your battery is charged, which means the battery is cool and ready to go.
Options
Most companies are devoted to options and safety features within their battery chargers. Here is a further description of excellent options and why they are good to look for when choosing a charger for your vape mod batteries.
Charging LCD screen that displays the batteries state of charge and other useful information.
Zero Volt Auto Battery Fix, for  bringing dead cells back to life.
Has an automatic power-off function to keep your batteries safe from overheating and safe from fires.
Can charge batteries independently, so it devotes amperage to batteries independently in series.
Excellent charging speed, of course to charge as quickly but safely as possible.
Overheating function, to determine if your batteries life has expired and it's just getting to hot.
Bluetooth to connect other devices or view your charge from your phone.
Runs on DC, for plugging into car ports and other DC sources for convenience.
Intelligent charging circuit, knows how to properly charge your battery, its called smart charger.
Milliamp per hour cell detection and display.
Automatically detects Li-ion, Ni-Cd and Ni-MH batteries, incase you own multiple brands of batteries.
Multiple charging ports, because you should have more than just one battery unless you don't vape very often.
Supports multiply sizes so when you want to step up your battery you don't have to buy a new charger.
Vape Mod Battery Charging Conclusion
It's very important to have automatic shut off, or current cut feature, with an excellent charging speed, and a great LCD, that is compatible with your battery ratings, is what you want from a charger. Remember to practice safe battery handling, don't charge batteries unattended or near flammables.