Why do vape mods explode, with no "real" explanation of what happened, and why?  You might have heard or seen some of these horror stories on some form of media. People are having mods explode, in pockets, during use, and right in there face.
The consequences are severe injury, fire, and even fatal in some instances. This is very sad, and I feel very bad for anyone who has suffered from any of these horrible accidents.
With the number of mod users and vapers on the rise, and millions of users today, you might think accidents are bound to happen when dealing with a battery that has explosive qualities. Well this might be true, but we can definitely lower the number of accidents, and end any stigmas involved  with vape mod explosions.
I want people to quit smoking and start vaping because it is absolutely safe, with minimal knowledge required to be safe. Let me stress required, if using lithium ion batteries, you simply must know the dangers involved. I have not found any cases where a regulated device manufacturer was held responsible for being defective, and causing injury, outside of user error.
What I'm specifically talking about is vape mods and the batteries they use, and why vape mods explode, 18650 size and larger, Lithium Ion rechargeable batteries seem to be the main catalyst in these cases.
Pods and smaller rechargeable devices are a completely different story. While these smaller batteries seem to be generally without incident, I'm not so sure about the devices themselves.
I was just recently at the vape shop and a customer had a pod device that wouldn't stop firing on its own. I right away see how this could lead to something bad happening. But this article is not about pods or smaller devices.
What Is Happening With These Exploding Mods?
The batteries are exploding due to what is called thermal runaway. This is where the battery has no time to vent and the added heat adds more heat in a spiraling effect and explodes fast. This is happening because of a short in the circuit. And this is most likely due to damaged battery wrap, or insulator in a mechanical or unregulated mod.
The second most likely reason is a short in the atomizer, inside a mechanical or unregulated mod.  There are lots of different parts inside of atomizers, and different areas that could be affected by damage , misuse, and foreign materials. 
Another possible cause and something to avoid is a mechanical mod where the 510 thread pin of the atomizer, threads directly onto the top of the battery. This is dangerous because the pin could become askew or cause damage to the cell and lead to a short.
Mod batteries are not exploding because they are defective, that is a one in ten million chance. They are not exploding because of low ohm builds, or being in hot cars.
They are exploding because of shorts. And the only way a regulated mod can short is if  a multiple battery regulated mod has multiple bad battery wraps that somehow short off each other as opposed to the device. Or If somehow the regulated mods circuitry got damaged causing a short, but i've never seen this happen.
When the batteries are exploding in pockets it's simply a damaged wrap coming into contact with change or other metal objects, essentially touching the positive and negative poles of the battery simultaneously.
Venting happens when a little disk inside the cell breaks from the pressure releasing the gas inside, causing a hissing like sound. This is why there are venting gates in mods. Venting can happen if a battery is put in backwards, or its exposed to external temperature of  130 degrees celsius or 260 degrees fahrenheit.
Thermal Runaway happens when the cell has no time to vent and simply explodes into fireworks. This can happen from a short circuit, or if the cell is exposed to an external temperature of 300 degrees celsius or 550 degrees fahrenheit.
User Error
The bottom line for the majority of these cases is user error, the chance of a battery being defective is very slim. I'm not putting blame on the victims, because this appears to be partially the users fault for mishandling, and partially whoever sold them the device or the manufacturer for not heeding them to the dangers and or safe practices.
If your a beginner and using a sub ohm device on a mechanical mod you must educate yourself on a few basic things, otherwise you are vaping at your own risk.
Ohm's Law and measuring ohms
Battery care, safety, and structure
How to build coils properly
If your a beginner using a regulated mod you want to learn  battery care, safety, and/or buy a beginners starter kit.
Safe Vape Mod Practices
If using a mechanical mod get batteries with built in circuit protection.
Never use a cell with a damaged wrap.
Never carry cells in your pocket. Use a battery case.
Always use a charger with overcharge protection.
Protect your regulated mods circuitry from water and foreign material, as well as your atomizers.
Don't carry mods in your pocket. Remove the batteries and atomizer and use a travel case.
Inspect your cell wrap/insulator for damage and wear regularly, and recycle when necessary.
Only use IMR and INR type cells.
Battery
Device manufacturers are simply not responsible for damages caused by substandard batteries.
This 18650 I dropped on the concrete and the corner of the wrap is ripped exposing the negative pole of the cell, only 1/4 inch from the positive pole.
You can see the possible dangers here as theses two poles should not connect.
The positive and negative poles of the cell should never come into contact with any foreign conductive material simultaneously, be it in your pocket, or in a mod.
A very SAFE waterproof and shockproof, single battery, regulated mod. $65.90
Designed for mods - IMR 18650 3100mAh 35A Battery - $14.50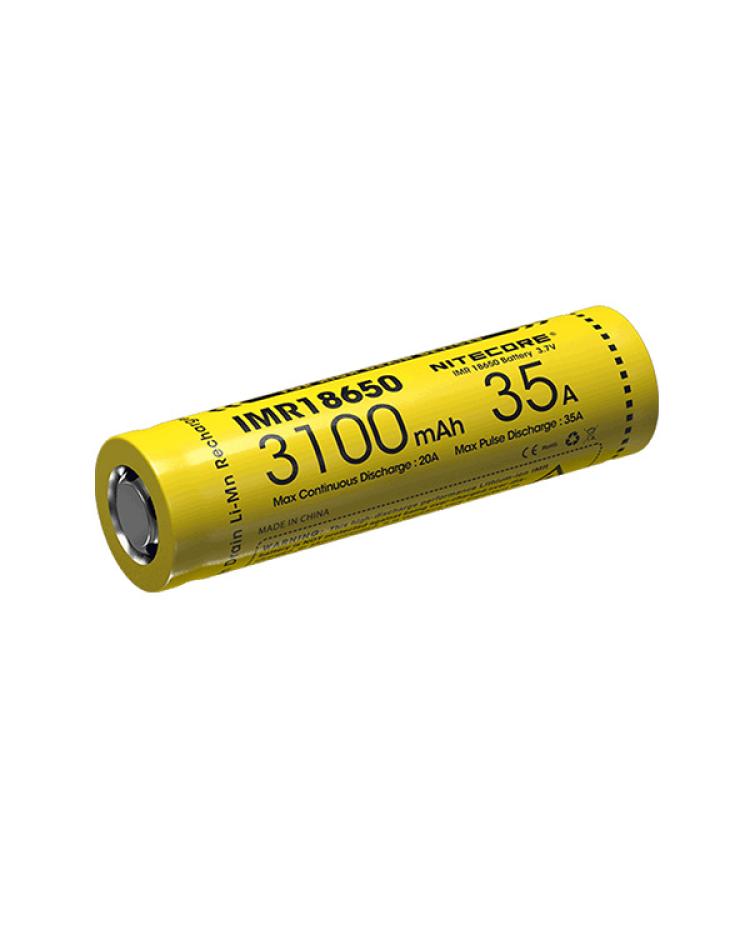 Conclusion
Vaping is safe, and only becomes dangerous when someone doesn't have a clue, or was never warned of the outcome of using substandard batteries. The same can be said for a lot of electronics.
A cell phone also has a lithium ion battery, except it's wrapped in a protective flexible casing making it a LiPo style. If you smash your cell phones battery with a hammer you will get thermal runaway.
Your mod battery is actually a cell, and two or more form a battery, and are typically used in packs and protected from the individual cell being handled and abused. Some manufacturers cells are designed with vape mods in mind, as well as other electronics that use individual cells. These seem to have a more durable wrap and insulator as well as useful information and specs and clearly marked positive and negative poles.
If your gonna buy cells for your mod, don't buy the brown bomber garbage kept in a bin from your vape shop. These LGs are good but the wraps suck, and they are faked all the time. Your just better off and safer buying quality and definitely saving money also. Grab some of these OhmTechs or Imrens today.
Please leave a comment, and help make this a better website!
Thank you for your support!